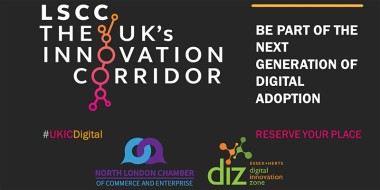 #UKICDigital – 2020 Digital Event
The adoption and use of technology are a vital contributor to economic growth and improved productivity. It's no surprise that the demand for digital connectivity is accelerating exponentially.
As we enter a new decade, we are seeking to answer two questions:
Is the existing mandate for technology infrastructure fit for purpose?
Are our businesses and public sector bodies adopting technology quickly enough?
The first question of 'what is enough' with regards to digital infrastructure (mobile, broadband etc.) there should be a national mandate to ensure that digital connectivity is ubiquitous and delivers where and when we need it.
The second is a broader question – both for the individual business and its technology adoption, but also how technology can accelerate economic growth and productivity – do we have the right skills to achieve this?
The UK's Innovation Corridor is partnering with the North London Chamber of Commerce & Enterprise and the Essex + Herts Digital Innovation Zone to bring together a convened audience to tackle this topic and explore the potential for joint action at a corridor scale.
In this initial event we will showcase some key initiatives and insights across public and private sector. We will stimulate ideas, and then ask for input on what else can be done to expedite progress.
Some of the key questions we will be looking to answer will be: –
If we could do more, what would it be? What would we need to achieve more?
What does the private sector need? And does this correlate with the public sector targets?
How can we provide a consistent service along the corridor?
Should we lead on certain technologies e.g. AI?
Benefits of Attending
Have your say in how businesses should adopt technology.
Be part of the next generation of digital adoption
Find out if the existing mandate for technology infrastructure fit for purpose
Help to shape technology across the UK's Innovation Corridor
Find out whether or not we're leaders in technology adoption
Agenda 
12:30 Arrival and networking
13:00 Welcome and Introduction
13:10 Government intention for adoption/ escalation of digital infrastructure
13:20 The UK's Innovation Corridor Digital Showcase
14:25 Break
14:45 Workshops
16:15 Workshop feedback and discussion
16:55 Keynote: Future of digital infrastructure
17:25 Wrap up and next steps
Confirmed speakers include Noelle Godfrey, Cambridgeshire County Council; Stephen Pattison, Arm and Shereen Daniels, HR Rewired, with invitation responses pending from DCMS and Digital Catapult plus more. The event will be chaired by Simon Mead, CW (Cambridge Wireless Ltd).
Interactive workshops will focus on the following topics
DIGITAL SKILLS
How will technology change the shape of our workforce and the skills needed to complete the evolving roles. What does this mean for training and development. And how do smaller businesses adequately provision for technology adoption.
CONSUMER IMPACT
How will consumers benefit from increased technology ability – for example through healthcare. What is the best in class for public provisioning, and what needs to be done to encourage end use adoption.
TECH INFRASTRUCTURE
Is the existing mandate for technology infrastructure fit for purpose and what do businesses need to do to accelerate adoption.
CORRIDOR LEADERSHIP
The corridor consists of many significant businesses in the tech space. Are there specific areas where we should drive escalated adoption of key technologies.
BEING TECH-READY
Are our businesses and public sector bodies adopting technology enough? What is the base-line for businesses of all sizes.
WHAT DOES 2030 LOOK LIKE?
If we had a blank piece of paper, what would our businesses look like in 2030. This is a blue-sky session where we  look at an ideal situation vs any restrictions that currently exist.
INWARD INVESTMENT
How can we showcase the UK's Innovation Corridor to attract further inward investment.
Details
| | |
| --- | --- |
| Event: | #UKICDigital – 2020 Digital Event |
| Poster: | |
| Date(s): | 25/02/2020 |
| Start Time: | 12:30pm |
| End Time: | 17:30pm |
| Venue: | |
| Address: | , , |
| Map: | View Map |