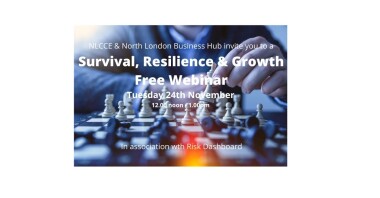 Survival, Resilience and Growth Webinar
This is an interactive webinar from NLCCE and the North London Business Hub in association with Risk Dashboard – to help you boost your business recovery.
Date and Time
Tue, 24 November 2020
12:00 – 13:00 GMT
Attend this webinar to find out how you can access a free Covid-19 audit and compliance tool, BEIS Accredited) to help you manage your post Covid-19 resilience planning. Neil Campbell – Commercial Director of Risk Dashboard, will take you through an audit, and demonstrate the task management functionality which will assist you to create a 'survival, resilience and growth' strategy for the next 3-12 months.
By attending this webinar, you will:
Receive a set of results identifying your coronavirus weak spots by completing a Covid-19 secure business audit sent via a link in a follow up email after the webinar
Create a plan for future business resilience
Undertake all necessary actions to assist your staff to return to work safely, and develop Covid-19 secure communications
Identify areas in your business where you have taken the appropriate and necessary actions
Create a secure work environment for staff that are working from home
Understand in real-time the key concerns and recovery barriers for recreating business growth
Agenda
12:00-12:15 Joining and networking
12.15-12.20 Welcome & Introductions
12.20-12.45 Presentation & Q&A
12.45-13.00 Networking and event closing
About Neil Campbell:
Neil is the Co-Founder of the Risk Dashboard established in 2017, UK's leading Risk Management software company. He has 20 years' experience creating and managing online SaaS applications including: Mercedes Benz UK used vehicle portal, Autoquake and Tesco CarsCo. He is also the founder of the Northamptonshire Police Cyber Security Forum and a former member of the RFU's leadership team for the East Midlands.
Please note that the session will be recorded and by registering you agree for your details to be shared with NLCCE, North London Business Hub (Enterprise Enfield) and Risk Dashboard.
Book your FREE place HERE
Details
| | |
| --- | --- |
| Event: | Survival, Resilience and Growth Webinar |
| Poster: | |
| Date(s): | 24/11/2020 |
| Start Time: | 12:00pm |
| End Time: | 13:00pm |
| Venue: | |
| Address: | , , |
| Map: | View Map |