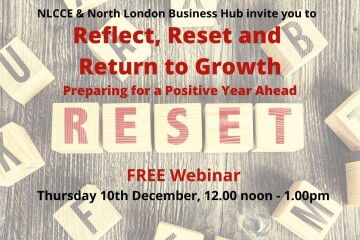 Reflect, Reset and Return to Growth – Preparing for a Positive Year Ahead
This NLCCE/North London Business Hub event is in association with HeadsUp HR.
Reflect, Reset and Return to Growth is a means of starting to think about the necessary mindset that will take you and your businesses forward.    It's about having clarity of direction and being open to enrich strategy with input from others.
It's about managing self and maintaining high motivation whilst retaining the ability to self manage stress, it's about seeking to innovate  but having a persistent view on where things are going with a need to experiment and it's about self development.
Takeaways from the session:-
Hear and share what businesses are currently experiencing as we approach the end of 2020
Share some of the lessons we can all learn from our collective experiences of 2020
Understand the 3-step process you can deploy to Reflect, Re-frame and Respond to your challenges as a business owner/leader
Learn the core components of a Growth mindset (based on the research of leading psychologist Carol Dweck), and how it differs from a Fixed mindset
Gain an insight into the leadership traits, behaviours and paradoxes that will allow you to respond to the challenges of 2021 and see where how you measure up
Nick Hawley, is the ex-HR Director at the cross channel operator Eurotunnel and has spent 30 years in the world of Human resource management.  A pragmatic and experienced leader, Nick has gained his senior experience across a range of different sectors including packaging, aerospace, automotive, building materials and transportation in complex environments. With a great passion for developing leaders and their teams to deliver  business performance, Nick established his HR Consultancy at the beginning of 2020, just before Coronavirus gripped the nation. He has his own fascinating story to tell as he embarked on a purposeful career move realising his personal ambition of launching his own business.  Offering virtual HR Director services to SMEs as well as developing his Executive Coaching and Organisation, Team and Leadership development practice,  Nick focuses on supporting leaders in grappling with the personal and business challenges they face. Visit his website at www.headsuphr.co.uk
Date: Thursday 10th December
Time: 12.00-13.00
Agenda:
12.00-12.10        Joining and networking
12.10-12.15        Welcome and Introductions
12.15-12.45        Interactive Presentation and Q&A
12.45-13.00        Networking and Event close
Book your FREE place HERE
Details
| | |
| --- | --- |
| Event: | Reflect, Reset and Return to Growth – Preparing for a Positive Year Ahead |
| Poster: | |
| Date(s): | 10/12/2020 |
| Start Time: | 12:00pm |
| End Time: | 13:00pm |
| Venue: | |
| Address: | , , |
| Map: | View Map |