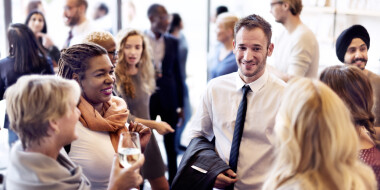 NLCCE Networking Lunch with Talk on Current HR Issues for Businesses
Thursday 17th February, 12.00 noon – 2.00pm
At: North London Business Hub, Barnet & Southgate College (Southgate Campus), High Street, London N14 6BS
Join us for this NLCCE and North London Business Hub in-person networking event – connect and collaborate with other business owners over a delicious buffet lunch!
Our guest talk will be on the topic of Current HR Issues for BusinesseswithNLCCE Member and HR consultant, Lisa Seagroatt, Managing Director of HR Fit for Purpose, which will cover:
The post pandemic workplace
Working lives in the future
Current challenges within the labour market
Please note as this is a catered for lunch event, we regret we cannot admit anyone without a booking.  (Maximum 2 per business). Event fee: NLCCE Members: free, non members: £7.50.
Agenda
12.00 noon – Arrivals and networking
12.30pm – Welcome, Despina Johnson, CEO, NLCCE
12.40pm – Current HR Issues for Businesses, Lisa Seagroatt, Managing Director of HR Fit for Purpose
12.55pm – Despina Johnson, CEO, NLCCE
1.00pm – 3 NLCCE Members: 1 minute business promotion slots
1.10pm – 2.00pm Buffet lunch and networking
We will be sharing an attendee list from this event. On checkout, you will be asked if you would like to consent to your details (name, business name, email and website) being shared. This list will be emailed to attendees.
About the guest speaker, Lisa Seagroatt
Lisa Seagroatt is Founder and Managing Director of HR Fit for Purpose and launched her HR business in January 2017 following a mental health breakdown caused by bullying and workplace stress. Since October 2017 Lisa has taught over 80 budding HR managers and has over 50 clients across the globe whom she supports with their HR needs, along with her team of specialists.
Lisa's particular expertise is around helping business leaders and the HR practitioners of the future understand why a healthy workplace culture approach will 'future proof' any business in terms of attracting and retaining good talent. She published her first book, 'Bandits in the Boardroom', which is based on her workplace experiences, in November 2021.
In 2017 Lisa graduated from the Enterprise Enfield's Female Founders Accelerator Programme, and is now an Ambassador for Women in Business through her role with Enterprise Enfield.
Lisa is CIPD qualified, holds a management qualification in business studies and is a qualified Trainer ('Train the Trainer'). She was a Finalist (October 2019) in the Best Business Women Awards, has been featured in The Daily Mail (September 2020) and in November 2020 she won the Enterprise Nation Top 50 Adviser Award.
Details
| | |
| --- | --- |
| Event: | NLCCE Networking Lunch with Talk on Current HR Issues for Businesses |
| Poster: | |
| Date(s): | 17/02/2022 |
| Start Time: | 12:00pm |
| End Time: | 14:00pm |
| Venue: | North London Business Hub. |
| Address: | Barnet and Southgate College, High Street, Southgate, N14 6BS |
| Map: | View Map |