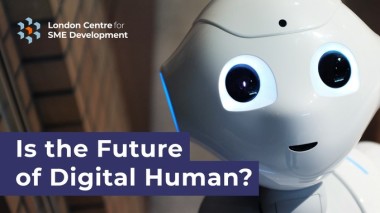 Is the Future of Digital Human? A London Centre for SME Development Premium Event
London Centre for SME Development Platinum Sponsors: ICRIS Managed IT Services
24th October, 6:00pm-8:30pm.
1 Southampton Row, London, WC1B 5HA
London Centre for SME Development is a joint initiative from Middlesex University and North London Chamber of Commerce and Enterprise (NLCCE). This event is FREE for NLCCE Business+ Members and London Centre for SME Development Members!  Admission by ticket only.
The Fourth Industrial Revolution (4IR) digital transformation is already here! One third of UK businesses have invested in AI and Automation in the last five years (PA Consulting) and this is having a transformative effect on business, work and our whole society. The velocity of change is only going to increase, with an estimated $7 trillion being spent on digital transformation in next four years.
We are delighted to announce our keynote speaker is Dr Andy Edmonds, PhD, founder of the UK's first AI company and pioneer in this field, current CEO of DARL. The accompanying panellists include: Chris Wilkinson (Head of Digital Strategy, Metro Bank), Danny Bluestone (Founder and CEO, Cyber-Duck), Paul Sullivan (Founder and CEO, BIAS), and Alex Galviz (Authentic Alex).
Topics covered will include:
• Implementation of new digital technology in your business
• The link between your technical and people strategies
• The use of digital tools to free capacity in your business
• Skills gaps and how you are addressing these
• Harnessing technology for positive change
• How to adapt and grow your business for the future
Speaker Profiles:
Keynote Speaker- Dr Andy Edmonds- CEO, DARL
Dr Andy Edmonds founded the UK's first AI company in the 80s. His next venture was a company using AI to generate financial trading systems that was ultimately purchased by the world's biggest futures trading organisation. After a period as the CEO of a US publicly traded company he started developing general purpose AI tools for sale to other companies as infrastructure, creating a natural language processing tool used as the core IP for the UK's leading regtech company. He attained a PhD in 1996 in the junction of AI, chaos theory and time series prediction. His current interests are AI systems that can explain themselves, and autonomous enterprises – i.e. trading companies with minimal or no human intervention. DARL
Chris Wilkinson – Head of Digital Strategy, Metro Bank
Chris is Head of Digital Strategy for Metro Bank, which was founded in 2010 as the UK's first new high street bank for over 100 years. He oversees the bank's digital agenda as it extends its high street success into digital channels, and coordinates the bank's response to new digital opportunities. This builds on Chris's experience as a strategy consultant, where he advised financial intuitions in the UK and overseas on strategy and innovation.  
Alex Galviz
Alexandra Galviz was Head of Training and Development for a Foreign Exchange broker by the time she was 24 years old. Finding herself a round peg in a square hole she left the company to create her own portfolio career. She is now a LinkedIn Top Voice Uk for 2017 & 2018 and shows others the techniques, strategies and hacks on how to build their online presence on LinkedIn. Her readership globally has grown to several millions over the last few years and she is now a sought after speaker, trainer and coach. She has 35,000+ followers with daily views of 20k – 30k+ and monthly views of 500k – 1M. linkedin.com/in/authenticalex
Danny Bluestone
Danny established Cyber-Duck in 2005 with the aim of bringing multiple disciplines under one roof, including: digital transformation, branding and marketing, user-centred design and web technologies. In 2015, he was awarded Wirehive 100's first Digital Leader of the Year. With the agency previously listed in Deloitte's Technology Fast 100 (EMEA), Danny has also been recognised by BIMA Hot 100. Last year, he was chosen for the DIMA 50 male advocates for equality in marketing and media. Cyber-Duck is now an ISO accredited agency delivering consistently high-quality products that solve even the most challenging briefs from clients like the Bank of England and Mitsubishi Electric.
Danny enjoys regularly sharing expertise in keynotes for branding, marketing, user experience (UX) and tech conferences. These include the UKTI, Marketing Week Live, Business of Web Design, UX London, UXPA and internal workshops at the BBC's Future Is Now. His digital insights have been featured in B2B Marketing, Econsultancy, UX Magazine, Web Designer Magazine and Smashing Magazine.
Paul Sullivan
Paul Sullivan is the Founder and CEO of BIAS, a triple-award winning business marketing, sales and training consultancy. He has 12 years' senior management and consulting experience within financial services at tier 1 banks and brokers coupled with over a decade of experience in marketing and business development within the financial, technology and property industries. As an industry leader, he has won several awards and sits on several advisory committees in fintech, blockchain and the wider business community – also acting as a mentor on several accelerator programs. He helps B2B and B2C blue-chip clients with CRM, business growth strategy (marketing, sales, business development), sales training, strategic hire, fundraising and investment, marketing automation, consultancy and chatbots.
Paul is passionate about discovering, evangelising and implementing new technology within the business, building relationships and networks, and taking projects and partnerships to the next level through creative ideas and delivery. His awards include: Best in Inbound Marketing Services UK 2019 – Global Business Insight Awards; Best Inbound Marketing Agency London 2017- Marketing, PR & Design Awards and Best Campaign Mental Health 2017- Marketing, PR & Design Awards.
Agenda
6.00pm – 6.30pm: Registration, networking and refreshments
6.30pm – 6.35pm: Welcome and introductions
6.35pm – 7.00pm: Keynote speaker (to be confirmed), including Q&A
7.00pm – 7.20pm: Networking, buffet and refreshments
7.20pm – 8.00pm: Panel session with Q&A
8.00pm – 8.30pm: Networking and close
Tickets for this event are £50 + VAT for non-members of the London Centre for SME Development, or join the London Centre for SME Development or become a NLCCE Business+ Member and attend premium events free of charge!
NB: Pre-booking is essential. No admittance without a ticket on the night!
About Us
London Centre for SME Development is a joint initiative from Middlesex University and North London Chamber of Commerce and Enterprise (NLCCE). Its vision is to create a thriving environment for SMEs to achieve fast, sustainable growth. London Centre for SME Development creates opportunities for SMEs to connect, network, share knowledge and grow, through events, thought leadership and access to the significant resources of the University. Visit our website for full details of benefits and membership.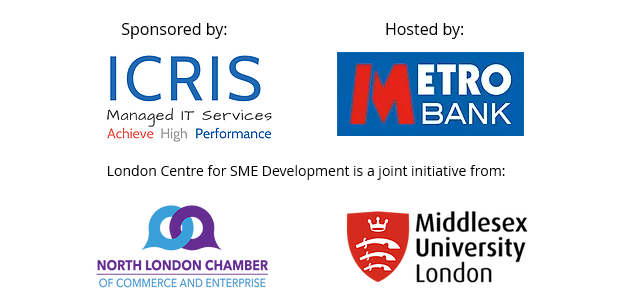 Details
| | |
| --- | --- |
| Event: | Is the Future of Digital Human? A London Centre for SME Development Premium Event |
| Poster: | |
| Date(s): | 24/10/2019 |
| Start Time: | 18:00pm |
| End Time: | 20:30pm |
| Venue: | |
| Address: | , , |
| Map: | View Map |