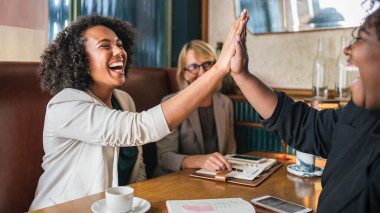 Female Entrepreneurship: Unlocking the Potential for the UK
About this Event
In her recent report on female entrepreneurship, Alison Rose (CEO, Royal Bank of Scotland) investigated the disparity that exists between male and female entrepreneurs. The report looked at the challenges and barriers that have an impact on entrepreneurship, and how this inequality is holding the UK back from unlocking this huge untapped potential. By overcoming these challenges, it is estimated that up to £250 billion of new value could be added to the UK economy if women started and scaled businesses at the same rate as UK men.
On Wednesday 26th February we are delighted to have four successful and inspirational female entrepreneurs joining us at London Centre for SME Development. Our keynote speaker is Suzanne Brock (MD, Nutriment Raw), and for our panel discussion, we have Ruth Rubin (CEO and Founder of ProActive), Janthana Kaenprakhamroy (Founder and CEO of Tapoly UK) and Anneke Edmonds, an educator in entrepreneurship.
Each have overcome, and continue to battle some of the challenges identified in Alison Rose's report. They will share their stories, experiences and offer some ideas for the way forward.
Register now for what promises to be an important and inspirational event!
NB: Entry to this event will be by pre-registration only, no other admittance.

Agenda
6.00pm – 6.30pm: Registration, networking and refreshments
6.30pm – 6.40pm: Welcome and introductions
6.40pm – 7.10pm: Keynote speaker (including Q&A)
7.10pm – 7.30pm: Networking and refreshments
7.30pm – 8.10pm: Panel session with Q&A
8.10pm – 8.30pm: Networking and close

Keynote Speaker:
Suzanne Brock (MD, Nutriment Raw)
After having run a gamut of careers, ranging from Army Officer to waitress, Suzanne found herself working in the pet food industry. In 2013 following a change in the management and ethos of the company she was working for, Suzanne quit and decided to set up on her own to produce a better product and create a company with passion for both staff and customers. The result was the multi award-winning Nutriment Ltd, making the very best raw dog food on the market. In five years, the company has grown from a standing start to a £8M turnover, shipping over 260 tonnes of dog food per month nationwide. This year also sees Nutriment starting to export to Europe and beyond.

Panel Members:
Ruth Rubin, CEO and Founder of ProActive
Ruth Rubin is CEO and Founder of ProActive an award winning multi-million pound staffing agency with hundreds of staff. After leaving school at just 15, she began her career in recruitment at 23 as a receptionist at Adecco. Three years later, she set up ProActive on a mission to redefine temporary staffing. Ruth's business model was based on her intuition that success in the industry would depend upon humanising a transient and often overlooked temporary workforce.
Her business vision from the outset was innovative yet simple: be decent with the staff, pay and treat them well, be obsessive about service to clients, and challenge industry norms. Over a decade later, these values account for a robust business with rapid growth, servicing much of the transportation industry across Great Britain. The culture of innovation at ProActive helped to conceive and spin off Sirenum, now a global leading provider of workforce management software to the temporary staffing industry, and has incubated other staffing and technology ventures. Ruth has various charitable commitments and is a mentor with Smart Works. She is mother to four young children and her book, 'Unticked' will be out Summer 2020. She has been featured in:
• The Recruiter and another article
Janthana Kaenprakhamroy, CEO Tapoly UK
Janthana is founder of Tapoly, the award-winning Insurtech providing on-demand business insurance for SMEs and freelancers. Tapoly won Insurance Provider of the Year at the British Small Business Awards 2018 and also won at the Efma & Accenture Innovation in Insurance Awards 2019, Tapoly provides an extensive list of insurance types to cover your business for a day, a year, or anything in between. Listed by Forbes as number 6 of the Top 100 Women Founders to watch, and among the Top Ten Insurtech Female Influencers according to The Insurance Institute.
Anneke Edmonds
An experienced strategic marketer and educator in entrepreneurship, Anneke comes from a multi-national background having worked and lived in Germany, the States and the UK. With an MSc in Strategic Marketing earned at Cranfield University, she is also a Fellow of the Chartered Institute of Marketing. In her current role, Anneke leads the post-graduate degree programme in Entrepreneurship at Falmouth University in Cornwall. She works closely with their well-funded purpose-built high-tech incubator, Launchpad where she coaches founder teams to bring their software solutions to market.
Anneke champions women entrepreneurs and women in STEM; with a focus on tech-entrepreneurs. Her PhD research considers the media representations of women entrepreneurs, and how this impacts on women's intent and actions in starting a business.
Anneke was only the third ever German citizen to be made a Freeman of the City of London, after Bismarck and Helmut Kohl!

Chair of the Panel: Despina Johnson
CEO NLCCE & Enterprise Enfield 
Despina Johnson is Chief Executive of the North London Chamber of Commerce and Enterprise and has been CEO of its sister company, Enterprise Enfield, for over 10 years.
Despina's passion for female entrepreneurship is driven by her ambition to empower women with the skills and confidence they need to become financially independent and create their own wealth. Under her leadership of Enterprise Enfield, she has grown a range of business support services and developed a particular niche in supporting female entrepreneurs by creating a series of bespoke programmes to support women to start, grow and succeed in business.
The schemes, which have attracted funding from a variety of sources, including charitable foundations and the European Union, have been specifically created to respond to the needs of female entrepreneurs and include the Inspiring Women Programme, the Female Founders Accelerator and the Ambassadors Programme.

About Us:
London Centre for SME Development is a joint initiative from Middlesex University and North London Chamber of Commerce and Enterprise (NLCCE). Its vision is to create a thriving environment for SMEs to achieve fast, sustainable growth. London Centre for SME Development creates opportunities for SMEs to connect, network, share knowledge and grow, through events, thought leadership and access to the significant resources of the University. Visit our website for full details of benefits and membership.
London Centre for SME Development is sponsored by ICRIS Managed IT Services.
Details
| | |
| --- | --- |
| Event: | Female Entrepreneurship: Unlocking the Potential for the UK |
| Poster: | |
| Date(s): | 26/02/2020 |
| Start Time: | 18:00pm |
| End Time: | 20:30pm |
| Venue: | NatWest - Regents House |
| Address: | NatWest Entrepreneur Accelerator, 42 Islington High Street, N1 8XL |
| Map: | View Map |