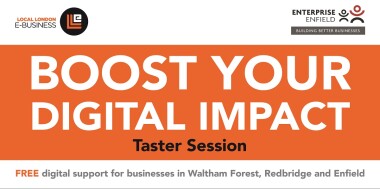 Boost Your Digital Impact Taster Session (Walthamstow)
At: Creative Works, 7 Blackhorse Lane, London E17 6DS
Who is this session for?
This Taster session is open to owners of businesses located in Redbridge, Waltham Forest or Enfield which have been trading over 6 months. The session is supported by Enterprise Enfield's E-business Programme.
What is it about?
Since the onset of the pandemic it has become more and more important for businesses to understand how to use digital tools and technology to boost their online presence, increase sales and grow. The E-business Programme is specifically designed to help owners like yourself – with FREE 121 digital advice, business advice and support tailored to your individual business. In addition, you and your staff can access to digital webinars, seminars and networking events.
At this session:
Hear how you can sign up to receive FREE expert 121 help and support to harness the power of digital technology to boost your online presence; attract more customers and grow your business!
Hear a presentation on Digital Marketing Plan Essentials: 

what do you want to achieve? Who are your target customers? How will success be measured?
Meet our Digital Expert and Business Adviser & take the opportunity to register to join the E-business Programme for free support
Connect with other like-minded business owners
The E-business Programme is delivered by Enterprise Enfield and supported by Local London, and Waltham Forest, Redbridge and Enfield Councils.
Details
| | |
| --- | --- |
| Event: | Boost Your Digital Impact Taster Session (Walthamstow) |
| Poster: | |
| Date(s): | 27/04/2022 |
| Start Time: | 10:30am |
| End Time: | 12:30pm |
| Venue: | |
| Address: | , , |
| Map: | View Map |